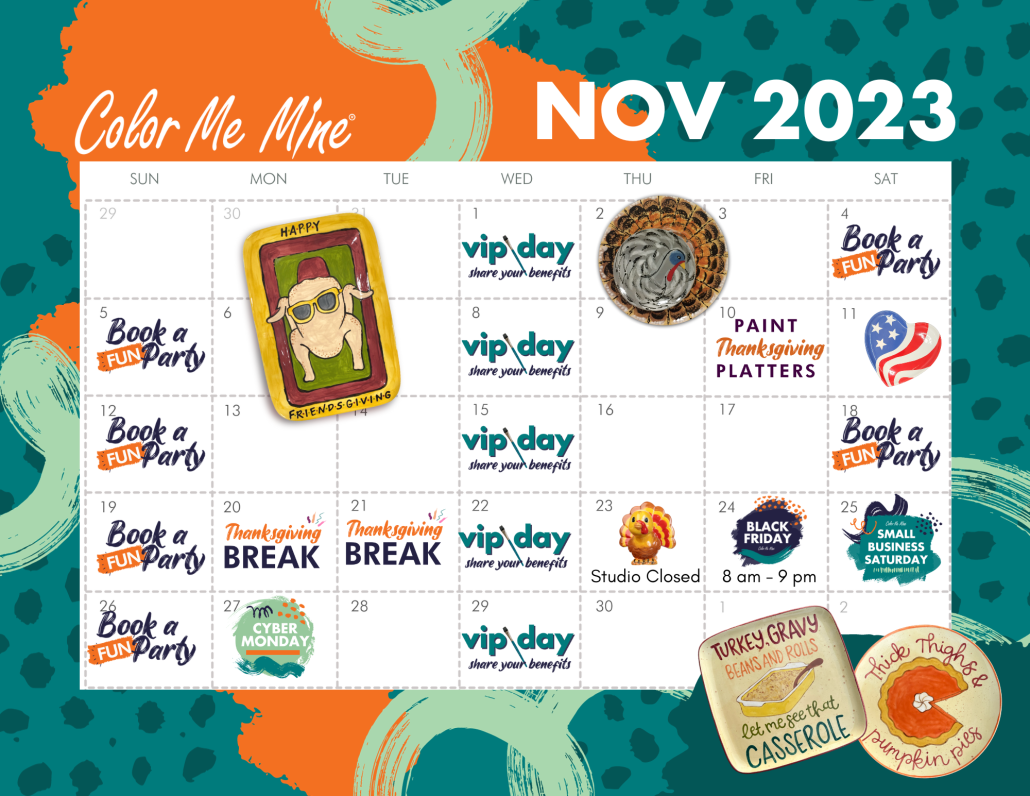 VIP WEDNESDAY Hi VIPs! Share your benefits, 10% off pottery and FREE studio fee with one additional painter on Wednesday. Share the love!
VETERANS DAY 11/11/23 We honor the brave men & women who have fought for our country's freedom and safety. Veterans receive 10% discount on pottery purchases. Thank you for your service and sacrifice, today and every day.
PAINT THANKSGIVING PLATTERS Add a personal touch to your Thanksgiving feast with our one-of-a-kind platters. Paint with us before 11/14 for holiday pick up and take home a unique piece to cherish for years to come!
HAPPY THANKSGIVING Studio is closed so that our dedicated employees can spend much-deserved quality time with their loved ones. Enjoy your day filled with delicious food and cherished memories.
BLACK FRIDAY Get a head start on your holidays creations and take 10% off your pottery purchase from 8 am to 10 am. VIPs get 20% off their pottery purchase all day!
SMALL BUSINESS SATURDAY Thank you for sharing the love with this locally owned and operated small business, supporting our community and spreading the love this holiday season. Paint with us, purchase gift cards, book your holidays gatherings & parties with us today!
CYBER MONDAY 25% off the party fee when you book your next gathering with us online using code CYBERCMM23. Visit our website now to secure your date and time up to one year in advance. Let's get this party started! (Discount applied to party fee; not applied to pottery purchases the day of the event)
Daily discounts can not be combined with other specials, discounts, or offers. Must be requested by customer at time of check out. Can not be applied to parties or the purchase of gift cards or VIP passes.